So lockdown is coming to an end and all your friends are planning to get together and have a wild night out, trouble is you haven't told any of them that you are not drinking yet. Don't worry below are some of our top tips for a successful sober night out!
At first it can be a little uncomfortable and awkward,, but we promise it gets easier and easier and before you know it you'll be able to go out with your new sober friends or your old mates and not be so serious!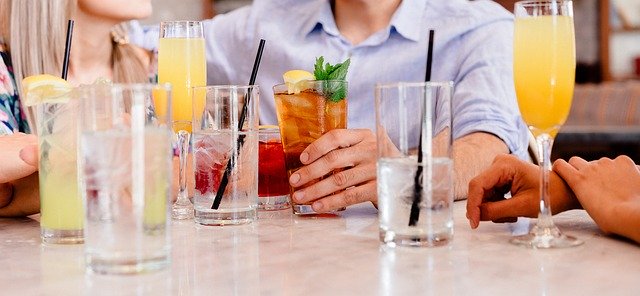 Maintaining sobriety when your whole social life revolves around drinking and partying can be challenging, the fear of losing friends, becoming isolated can all be scary! The truth is you CAN still have a pretty awesome social life without booze, it just takes a little time to find your sober mojo. We promise you it is there, you just need to be patient with yourself and give yourself time.
Successful sober socialising is all about mindset, it's important to focus on all that you are gaining! The beauty of an alcohol free social life is that you can take all the best bits and skip the parts that often ruin a great night out!
Top tips
• Ring the venue and check what alcohol free drinks are available – Most restaurants, pubs and clubs will be happy for you to take your own if they don't already have something available.
• Volunteer to be designated driver – This gives you the perfect excuse should you need it and of course allows you to leave when you have had enough.
• Before you decide to go, check in with yourself that you really do want to go – and if you don't want to go, do not go, your sobriety must come first.
• Be the photographer – This gives you something to do and all your mates will love you for it.
• Stay Positive – Don't moan about drunk people. Be supportive. When conversations turn into a blur it's time to either hit the dance floor or go home (believe us after 11pm nobody will even notice)
• Hold a drink at all times – By making sure you have a drink at all times; tonic water in a nice glas, AF beer whatever you fancy it will put a stop to any 'you're not drinking?! Don't be boring!' pressure
• Plan something you have to get up early for the next day – for example, a shift at work, walk, swimming, yoga class, a trip with the kids.
• Tell your fiends you are doing a sober experiment – Then give them the link to our website and they can see for themselves how much fun sober really can be, (sorry we couldn't resist)
Being "the only sober person" is less noticeable than you might imagine and remember, nothing good happens after 2am and there is definitely no greater feeling than waking up the day after hangover free, believe me it never, ever gets boring
There are so many benefits to sobriety and we can assure you the party most definitely doesn't stop when you get sober, it really is just the beginning.
If you would like to give sober a go but you are not sure you can do it alone check out our 30-day supported sober experiment, we will be with you every step of the way!