Bee Sober Drop-In Support Lounges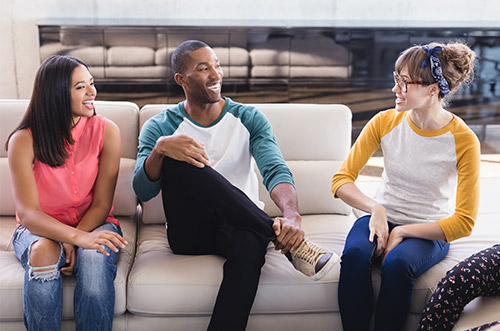 These sober drop-in support lounges, facilitated by Bee Sober DBS checked Ambassadors and Bee Sober Coaches are in place for members to share inspirational ideas and tips for a successful sobriety. You will be able to share your journey, free from judgement, in a supportive, encouraging, confidential and friendly environment, whilst surrounded by like-minded people all at various stages of their sober journey. 
The Bee Sober Drop-In Support lounges are for anybody wanting support on their sober journey whether you have done a 12-step programme or are taking a different route to sobriety. Our inclusive and modern approach is for everyone who wants to get and stay sober, whatever stage you are currently at. 
Join us at any of our lounges; as a member you can come as often or as little as you want to celebrate your successes and navigate your way through any challenges you may face. Everyone is welcome, even if you're not yet sober! All we ask is that you don't drink during the event to experience the fun you can have without booze. 
Important
Thursday Lounges
The 7:30pm (GMT) Thursday Support Lounge is now open to everyone including non-members.  Come and join us free of charge to get a taste of what Bee Sober offers.  Simply email the subject line Thursday Lounge and we will send you the link.
Whilst we do not charge for Thursday lounges we are always grateful for any donations or purchase of our products and services. As a non-profit community interest company any money we receive goes back into the work we do to support the community. Becoming a paying member is not just about what you get, but what you give: When you purchase any of our items you financially support Bee Sober to continue to support others just like you. It also helps fund our podcast and allows us to continue to support the community e.g. schools, colleges, universities, and rehabilitation centres.
If you would like to find out more about monthly membership for as little as 72 pence a day check it out here 
Join a Bee Sober Thursday Support Lounge Free
The Thursday Support Lounges are open to everyone.
Time 7.30pm UK time.
Members and Non-members are all welcome! 
This is a great opportunity to meet new people, talk about your week, share your highs or be supported with any lows!
An online weekly get-together chat
The Thursday lounges are one of our faves, we really can't wait to meet you and if you feel bit nervous, we totally get it which is why we have the infamous breakout rooms! So no matter how many attend you'll only ever be in a group of between 3 and 5 people
It's Safe - it's Friendly - it's Fun - it's definitely the place to BEE
All we ask is that you don't drink before or during the zoom session. Anybody under the influence of drugs or alcohol would have to be removed from the meeting.
Please note that Thursdays are a little more structured than our regular drop-ins, meaning we'd need you to turn up on time before the room gets locked. (that sounds worse than it is, we promise to let you out haha) 
To join the Zoom Meeting you'll need to be a member of our free Facebook support group
We will post the link in the comments there.
Bee Brave, Bee Kind, Bee Sober